MP Vyapam Patwari Syllabus pdf & exam Pattern 2017-18 Download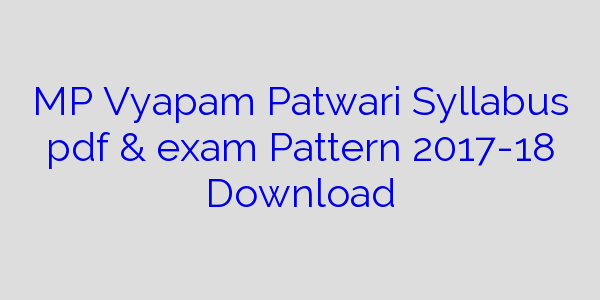 MP Vyapam Patwari Exam Pattern 2017| Download MP Vyapam Patwari Syllabus Pdf here| Madhya Pradesh Vyapam Patwari Exam Syllabus 2017
Candidates who are going to submit their application for MP Vyapam Patwari Jobs and are preparing for their written examination can see the whole exam pattern and complete MP Vyapam Patwari syllabus here. Recently Madhya Pradesh Professional Examination Board has released the notification for the 9235 MP Patwari recruitment.  The Selection of the candidates for MPPEB Patwari jobs 2017 will be based on the written exam. All those candidates who are attending the written examination may download the whole MP Vyapam Patwari Exam Pattern and Syllabus 2017 on this page. The online application has started until 11/ Nov/ 2017. As per notification released the examination will be conducted from 09/ Nov/ 2017 to 31/ Nov/ 2017. In order to prepare well for the exam, it is necessary for the applicants to get to know about the MP Vyapam Patwari exam syllabus pattern before the written exam. This will give the brief idea and help the candidate to obtain a better score in the exam. Download MP Vyapam Patwari Syllabus 2017 pdf to get to know about the subject wise marks & the topics covered in the exam paper.
Here we are updating Madhya Pradesh Professional Examination Board Recruitment MP Vyapam Syllabus & Exam Pattern pdf. Applicants can download MP Vyapam Patwari Syllabus from the direct link given below on our website.
MP Patwari Exam Pattern 2017:
S. No 

Subjects
Total Marks
Exam duration
1
General Knowledge
100
1:30 hrs

(90 min)

2
Mathematics
3
Hindi
4
Rural Economy and Prejudice Raj (Panchayati Raj)
5
Computer Knowledge
The Exam will be Online & is of Objective Type.
The Question Paper contains total 100 Questions.
Each Question consists 01 Marks.
The medium of MP Vyapam Patwari Examination is Hindi/ English.
The Time Duration for the Online Exam will be 1:30 hrs (90 Min).
The Questions on the question Paper includes-

General Knowledge (सामान्य ज्ञान)
Mathematics & General Interest (सामान्य गणित )
General Hindi (सामान्य हिंदी)
Rural Economy and Prejudice Raj (ग्रामीण अर्थव्यवस्था)
Computer Knowledge.
Madhya Pradesh MP Patwari Exam Syllabus 2017 Download
Here given the full MP Patwari syllabus pdf for the written examination. Candidates may download the MP Vyapam complete syllabus pdf 2017 from the below link
General Knowledge MP Vyapam Patwari Syllabus Download
 Central general knowledge of Madhya Pradesh, national park, major rivers, irrigation planning, major wildlife sanctuary, major tourism (forts, palaces, ancient notable and natural places, caves, mausoleum etc). Major personas of Madhya Pradesh (political, artist, sportsmen, social worker, administration, author, litterateur etc.)
General Hindi MP Vyapam Patwari Syllabus Download
वर्तनी की सामान्य अशुद्धियाँ तथा शब्दों  के शब्द  रूप, किसी वाक्य को अन्य लिंग में परिवर्तन, मुहावरा व उनका अर्थ, अशुद्ध वाक्यों के शुद्ध रूप, शब्दों के स्त्रीलिंग/  बहुवचन, विलोमार्थी शब्द, समानार्थी व पर्यायवाची शब्द, कहावतें व लोकोक्तियां के अर्थ, संधि विच्छेद, अनेक शब्दों के लिए एक शब्द, क्रिया से भाववाचक संज्ञा बनाना, रचना एवं रचयिता इत्यादि
Mathematics MP Vyapam Syllabus Download
Questions will be asked from Simplification, Percentage, Time & Work, Average, Area, Simple & Compound Interest, Profit & Loss, Time & Speed, Investment, HCF/ LCM, Problems on Ages, Pictorial Graph, Bar Graph, Pie Chart and Data Interpretation etc.
Rural Economy and Prejudice Raj MP Vyapam Syllabus Download
Economics from Rural Places, General issues of Rural Economics The candidates will be examined about the Panchayat Raj, Rules of Panchayat Raj, Where & how it works and Problem with the Prejudice Raj etc.  General awareness of the subject is expected from applicants.
Computer Knowledge MP Vyapam Syllabus Download
Computer Fundamentals, MS-Office, Word Processing (MS-Word), Windows (MS-Windows), Spread Sheet (MS-Excel), MS Access and Usage of Internet Services available on Internet, Presentation Knowledge (MS-PowerPoint),  Communication Technology, Networking Concepts
Computer Knowledge MP Vyapam Syllabus Download
Analogies, spatial visualization, spatial orientation, similarities/ differences, problem-solving, analysis, judgment, decision making, discrimination, observation, relationship concepts, arithmetic reasoning, visual memory, non-verbal series, verbal and figure classification, arithmetical number series, statement conclusion, syllogistic reasoning, coding, and decoding etc.
Other Important MP Patwari Recruitment 2017- 18:
16325 Total Views
139 Views Today
Posted by- Siksha Raturi