Miracle Academy Jaipur
Landmark-AGRASEN HOSPITAL, Miracle academy, 7/154, Vidyadhar Nagar, Jaipur, Rajasthan 302039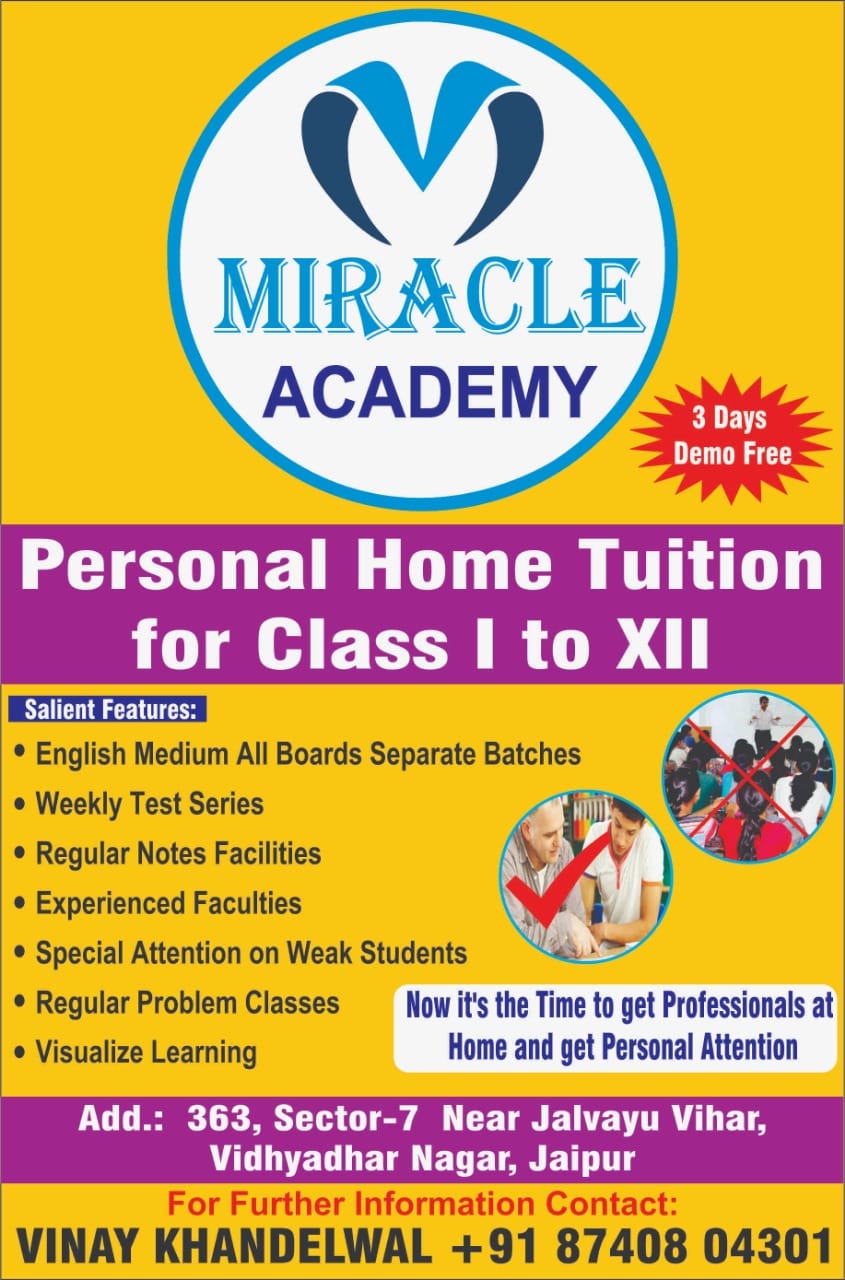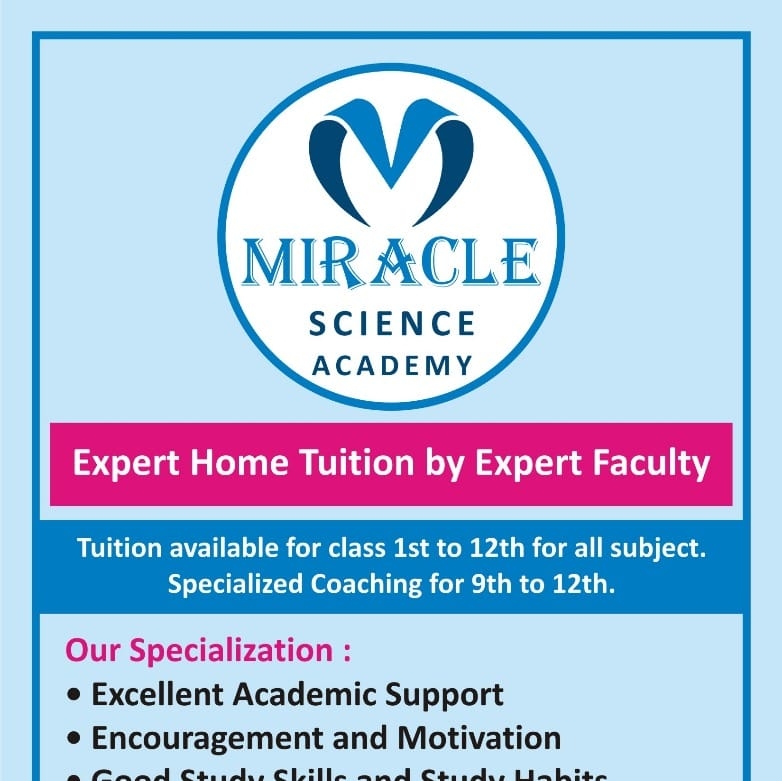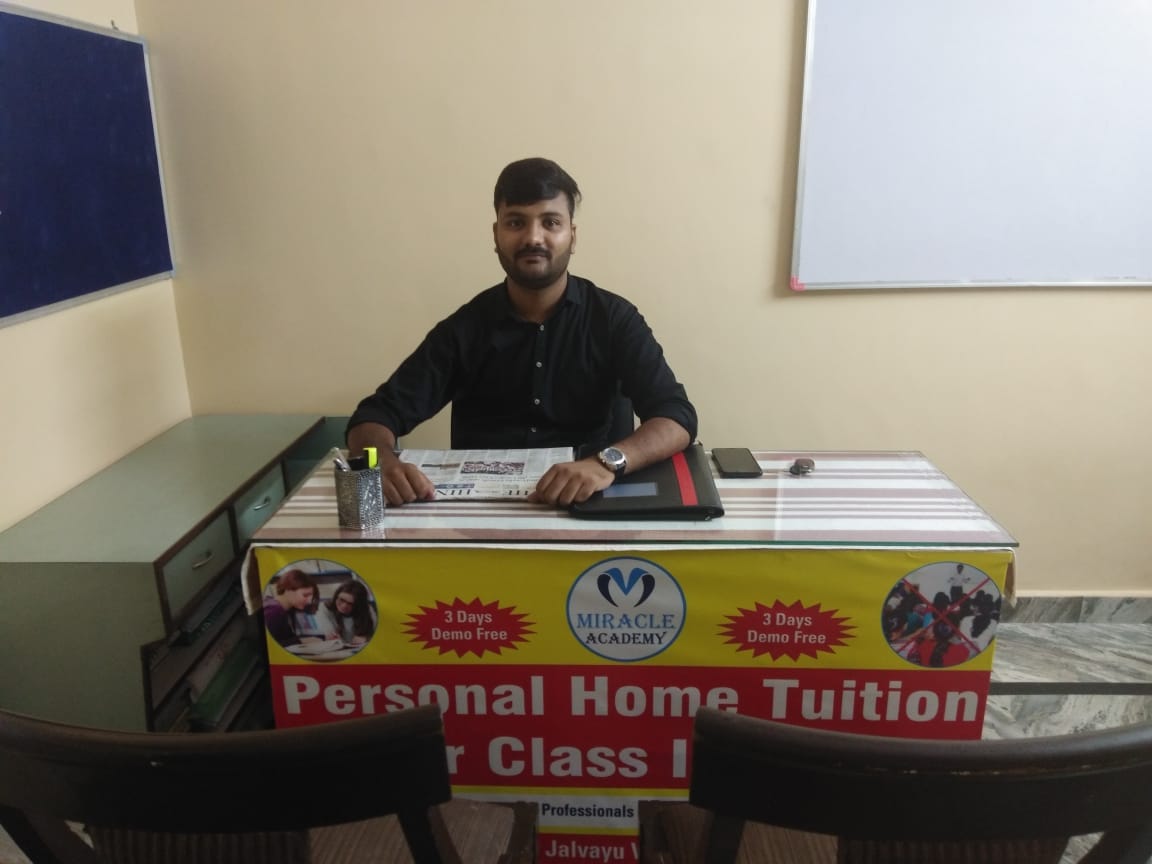 About Us
---
TThe Miracle Academy, which launched in 2013, is Jaipur's first Artificial Intelligence (AI) learning-based academy for children. Students can receive a high-quality education while at home thanks to the Miracle Academy's comprehensive learning curve solutions. The Miracle Academy's purpose is to provide every student with an inexpensive education, and the institutions provide students with high-quality, technology-based learning and practice platforms at an affordable price. T The Miracle Academy specializes in fun and entertaining home-based tutoring, AI-enabled online programs, and amateur center tutoring. The Miracle Academy is located in Vidyadhar Nagar, one of Jaipur's most prominent neighborhoods. With so many forms of transportation accessible, getting to The Miracle Academy is simple. It is conveniently located near Maharaja Agrasen Hospital, making it easy to find for first-time guests. the Miracle Academy in Jaipur, Rajasthan offers AI-based online tuition for students on the 6th, 7th, 8th, 9th, 10th, 11th, and 12th grades from NCERT, CBSE, ICSE, and RBSE state boards. For CBSE, ICSE, NCERT, and RBSE Class 6th to 12th, we provide the best Home Tuition in Jaipur for Maths, Physics, Chemistry, and Biology.
Available Courses
---
1st to 10th Standard
CBSC/RBSC
CBSE/RBSE English
Chemistry, Botany, and Zoology.
CLASS IX & X
Class VIII all Subjects
Class XI - XII
CLASS XI & XII (COMMERCE)
CLASS XI & XII (SCIENCE)
IX & X School Exam+IIT-JEE/NEET
IX, X, XI, XI ISocial Science/Studies Science, Biology,Physics Chemistry and Maths
Physics chemistry Maths
VII VIII IX X XI and XII
Address:
Landmark-AGRASEN HOSPITAL, Miracle academy, 7/154, Vidyadhar Nagar, Jaipur, Rajasthan 302039City: Jaipur
State: Rajasthan
Send Enquiry
---
Useful Information
---
Avoid any scams while paying directly in advance
Make payment via Western Union etc at your own risk.
You can accept and make payments from outside the country at your own risk.
Address Guru is not responsible for any transation or payments, shipping guarantee, seller or buyer protections.