Uttrakhand Current Affairs 2019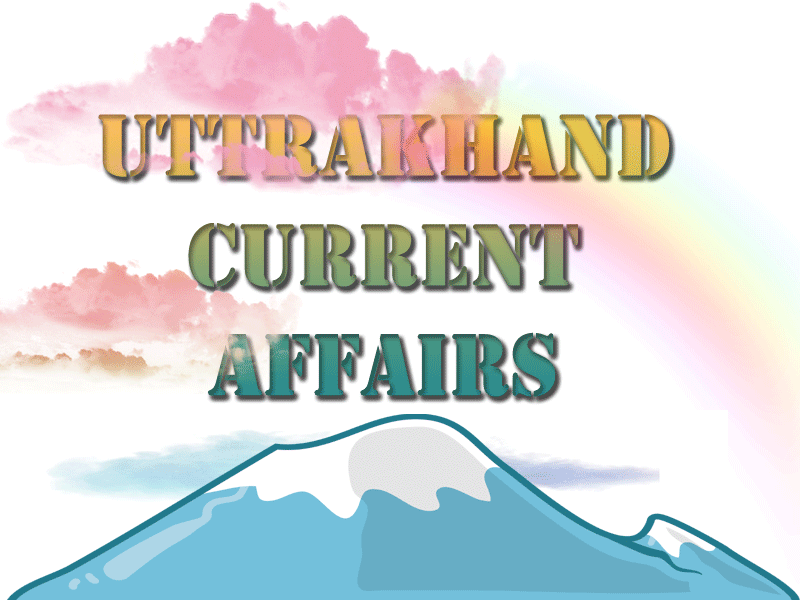 We have organized the event list of Uttarakhand Current Affairs 2019, which are helpful for candidates who are preparing for any competitive exam.


At Mussoorie-uttrakhand, Conclave of Himalayan States was held on to discuss priorities of Indian Himalayan Region (IHR) in 15th Finance Commission.




The tripartite Memorandum of Understanding was signed between  NMCG, INTACH and HCL Foundation for plantation of 10,000 Rudraksh(रुद्राक्ष) trees in the related area of river Ganga Basin in Uttarakhand.




The world renowned chardham yatra  began in Uttrakhand. The Gangotri and Yamunotri dhams were opened for pilgrims on occassion of Akshay Tritya (teej).




In 'Beti Bachao, Beti Padhao' scheme Uttrakhand is named as best performing state.




The government of Uttarakhand has launched the Mukhyamantri Anchal Amrit Yojana to help Anganwadi Centres by providing them milk.




The 2019 Prayagraj Kumbh Mela  has made to Guinness World Records by being :
Largest traffic and crowd management plan.
Biggest painting exercise of public sites under the scheme of paint my city.




The 112 helpline which was earlier launched in Himachal Pradesh and Nagaland was launched in 16 other states and Union territories by Rajnath Singh-Union Home Minister under the Emergency Response Support System (ERSS)
-Andhra Pradesh, Uttarakhand, Punjab, Kerala, Madhya Pradesh, Rajasthan, Uttarakhand, Punjab, Kerala, Madhya Pradesh, Rajasthan, Uttar Pradesh, Telangana, Tamil Nadu, Gujarat, Puducherry, Lakshadweep, Andaman, Dadar and Nagar Haveli, Daman and Diu, Jammu and Kashmir are the 16 states and Union Territories where the helpline was launched.




The government of Uttarakhand has been permitted to develop the tulip garden over 50 hectares of forest land in Pithoragarh district costing  Rs 50 crore.After in Srinagar of Jammu and Kashmir, It will be the second Tulip garden located in the country.





For the construction of Renukaji Dam Multi-Purpose Project the Agreement was signed in the presence of Union Water Resources Minister Nitin Gadkari, by six states which include Haryana, Uttarakhand, Himachal Pradesh,  Delhi, uttar pradesh and Rajasthan.





Gangotri and Yamunotri are included in Uttrarakhand, Amarkantak in Madhya Pradesh and Parasnath in Jharkhand under Union Government, Pilgrimage Rejuvenation and Spiritual, Heritage Augmentation Drive (PRASAD) to develop pilgrimage and heritage destinations in the country. In the additions, the number of sites under PRASAD has now reached to 41 in 25 states.




Narayan Dutt Tiwari - Former Uttar Pradesh and Uttarakhand Chief Minister passed away at the age of 93 years in New Delhi. He was only Politician who has served as CM of two states.




Loan of euro 120 million (Rs. 990 crore approximately is announced by Germany to India to strengthen/ manage sewage water ...  treatment infrastructure in Uttarakhand in an effort to clean River Ganga under Clean Ganga Mission scheme, 'Ganga Box'  is also developed by German development agency  which aimed to target schools-going children and inform them about the river.





 NMCG - National Mission for Clean Ganga had organised Ganga Vriksharopan Abhiyan in about five main Ganga basin states which include  Uttarakhand, Uttar Pradesh, Jharkhand , Bihar, and West Bengal. The drive was launched on 9th July 2018 to 15 July.





Finance Minister of Uttarakhand, Prakash Pant presented sum of 48,663.90 crore State budget for financial year 2019-2020.





On February 9,2019,A Himalayan Cloud Observatory is set up in Tehri district with aim to forecast and monitor cloudburst incidents in the Himalayan region and help minimising the damage.





India and World Bank signed Loan Agreement worth USD 96 Million for Additional Financing for Uttarakhand Disaster Recovery Project.


Share this Post
(इस पोस्ट को अपने दोस्तों के साथ शेयर करना ना भूले)
Posts in Other Categories