COMBINED DEFENCE SERVICES EXAMINATION (II), 2017 FINAL RESULTS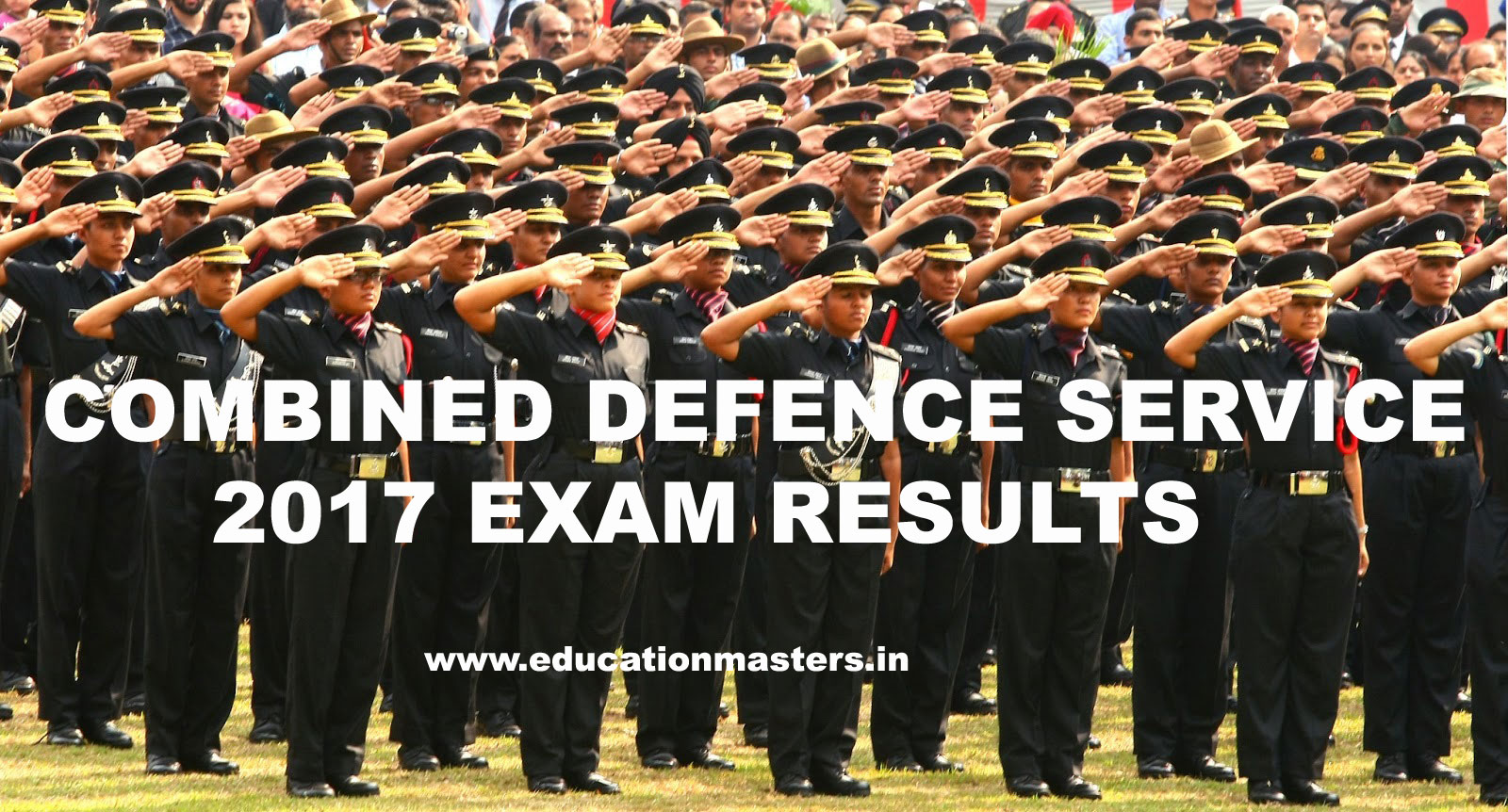 GOVERNMENT OF INDIA
PRESS INFORMATION BUREAU
Here is the list/merit  of 227 (*168 + ^59) Comined Defence Service examinations. Below are the  candidates who have finally qualified on the basis of the results of the Combined Defence
Services Examination (II), 2017 conducted by the Union Public Service Commission and
Interviews held by the Services Selection Board of the Ministry of Defence for admission
to the (i) *Officers Training Academy, Chennai, for 108th Short Service Commission
Course (NT) (for Men) and (ii) ^Officers Training Academy, Chennai, 22nd Short Service
Commission Women (Non-Technical) Course, commencing in October, 2018.
2. The number of vacancies as intimated by the Government, for (i) 108th Short
Service Commission Course (for Men) is 225 and for (ii) 22nd Short Service Commission
Women (Non-Technical) Course is 12.
3. The results of Medical Examination of candidates have not been taken into account
in preparing the merit list.
4. Candidates can also obtain information regarding results by accessing to UPSC
website http://www.upsc.gov.in. However, marks of the candidates will be
available within 15 days from the date of declaration of final results on
Commission's website for 30 days.
5. Attention of the candidates is also invited to the scheme of PUBLIC
DISCLOSURE OF SCORES AND OTHER DETAILS OF NON-RECOMMENDED
CANDIDATES as available in the Commission's website. Such non-recommended
candidates may exercise their options while downloading their marks.
COMBINED DEFENCE SERVICES (II) EXAMINATION,2017
 S.NO. ROLL NO NAME         OFFICER TRAINING ACADEMY (MEN)
1 0844612 AMAN SIDDHU
2 3500626 KARAN VINAYAK
3 0835719 VIVEK THARKOTI
4 0841898 JAIKRIT SINGH
5 3518616 VINEET KUMAR
6 3512825 MRIGANK SONI
7 0827747 SALMAN MALIK
8 0856625 REGATTE SAI KIRAN REDDY
9 0901117 DHRUV PRATAP SINGH RAGHAV
10 1110551 SHUBHAM MATHUR
11 0843756 PRABHAV RAJVANSHI
12 0508698 PARANJAPE ASHWIN MILIND
13 0805244 SAI SHUBHAM
14 0209914 ASHISH RAI
15 0502838 KARTIKEYA RATHORE
16 0104597 ANSHUMAN SAWANT
17 1900726 AKASH JAYAN
18 4102413 SHIVAM KUMAR
19 1902173 ASHIK KRISHNA KUMAR
20 0507835 VASAVADA SHIVAM DAXESH
21 0100339 PARESH TRIVEDI
22 0858514 ABHINAV TYAGI
23 0809851 PRANAV VEER VIKRAM SINGH
24 0700749 DEBASIS SARANGI
25 3401093 RAHUL CHOUDHARY
26 5100513 ANIL DALAL
27 1408712 PRASHANT SINGH
28 3901645 NITISHKUMAR HARIPRASAD PATHAK
29 0807821 GOURAV SANGWAN
30 0855632 VARUN PRATAP
31 0801343 SUMIT KHATRI
32 2617005 ABHINAV SHARMA
33 0862428 PAWAN SINGH BISHT
34 3517732 ANIMESH AGNIHOTRI
35 0823927 KARAN PRATAP SINGH
36 3509411 SHAURYA RAJPUT
37 2607972 SHUBHAM BHATT
38 1007589 BASHAN SURINDER SINGH
39 1402200 TUSHAR SINGH PANWAR
40 0501487 PATIL HARSHARAJ SUNIL
41 0306848 PARTH
42 1112980 ROHIT KULSHRESHTHA
43 3509217 VISHWAS GIRDHAR
44 1202431 ASHOK D
45 0820545 ASHISH KATARIA
46 0853778 SAMARTH SHUKLA
47 0817213 VISHAL KUMAR CHAUHAN
48 0861826 SHIRISH KUMAR BARNWAL
49 0514539 KRISHADITYA SINGH KANWAR
50 0401664 AYUSH KAUSHIK
 COMBINED DEFENCE SERVICES (II) EXAMINATION,2017
 S.NO. ROLL NO NAME                  OFFICER TRAINING ACADEMY (MEN)
51 3509263 MANISH RANA
52 1901273 JVM SRIKRISHNA MANIKANTA PANI
53 1409683 AKASH CHAUDHARY
54 0100428 RAJANI KRUTIN VINODKUMAR
55 4102897 PUSHKAL KUMAR KASHYAP
56 0501683 DIPTANSHU SHARMA
57 0102388 MICKYKUMAR SINGH
58 1200770 RAVINDER KATANIA
59 0506316 BRAJESH KUMAR
60 1003118 S V VARUN KUMAR
61 1702750 MADHVINDER SINGH PARMAR
62 0505693 SURAJ PRAKASH
63 0861249 ABHINAV SHARMA
64 4100693 KARAMJEET SINGH BAKSHI
65 1001330 YANGALASETTY SAI CHARAN
66 0805304 PRASHANT SHARMA
67 0822250 YARA VIJAYA SIMHA NAIDU
68 0845342 HARSHWARDHAN KOTHARI
69 0500089 SHREYASH S HANCHINAL
70 2400780 SOORAJ T S
71 0513372 ARYAMAN SINGH
72 3513021 GURKARAN SINGH
73 0857579 VIVEK KUMAR SINGH
74 1411058 ARVIND DIG VIJAY SINGHA
75 0305862 HARISH CHANDRA SINGH BHAYAL
76 3400478 NISHESH RATTAN
77 0511924 JERRYLL JOHN NINAN
78 0503200 SOMESH BALA M
79 1203436 CHANDRA SHEKHAR
80 0504038 PRANAV GOPAL YEOLE
81 0302274 AKASH A L
82 0503000 BRIJESH THAPA
83 0828449 LALIT KUMAR
84 1401707 SHIVAM SHARMA
85 0823809 TEJENDER
86 0866606 ANIL KUMAR
87 2610305 ABHISHEK SHUKLA
88 1404917 B N V ABHISHIKTH
89 3509339 AMRINDER REHILL
90 0825812 ABHINAV KUKSAL
91 0801142 ABHIJEET SHIVAM
92 0500374 BICHKAR SHUBHAM SANTOSH
93 4401551 MAYENGBAM LAKPATI LUWANG
94 0866446 RAVI KUMAR
95 1405989 ASHISH SHARMA
96 1201691 VENKATESH R
97 1106112 SANIDHYA CHAUHAN
98 0837948 HAMMAD SIRAJ
99 3511325 UDAY PRATAP SINGH MANHAS
100 2605299 SWARNIM MISHRA
 COMBINED DEFENCE SERVICES (II) EXAMINATION,2017
 S.NO. ROLL NO NAME                  OFFICER TRAINING ACADEMY (MEN)
101 3402582 ANIL KUMAR
102 0864841 VIKRANT SINGH RANAWAT
103 1410275 AKSHAYA KUMAR PANJWANI
104 0834543 MANOJ SINGH ADHIKARI
105 0801541 NEERAJ CHOUDHARY
106 3518197 SHUBHNEEK SINGH DHILLON
107 2402144 V ARAVIND
108 0812543 KARTIKEY MISHRA
109 3401605 SHUBHAM VERMA
110 0200229 MANIKANT UPADHYAY
111 0501529 ANKIT LATHWAL
112 1404203 VISHNU KANTH R
113 0848238 AAYUSH AHLAWAT
114 0515556 ABHIJEET
115 3507058 DAMANJEET SINGH
116 1205916 PRAVEEN SINGH
117 0832182 AJAY KUMAR
118 0820313 SHASHANK RAI
119 0825634 DEEPENDER NANDAL
120 1401433 MRINAL NEGI
121 0840856 BHUPENDER KUMAR
122 3514202 APOORAV SHARMA
123 1411027 ATUL KUMAR
124 1110954 DEEPAK SHARMA
125 1108613 ARUN SINGH SHEKHAWAT
126 1407098 VIVEKI RAI
127 1003157 G V P PRATHYUSH
128 1004879 KARUNESH VASHISHTHA
129 0902172 RITIKESH KUMAR
130 3600574 SHUBHAM SHINDE
131 1406590 SANDEEP KUMAR DAHAL
132 0829707 KUNAL JUNEJA
133 0865701 SAMRAT PRAJULI THAPA
134 1900124 AMITH ANIL KUMAR
135 0504085 AKSHAY VERMA
136 1102193 SIDDHARTH SHARMA
137 0813688 SHRESHTH BHARDWAJ
138 4800081 OZING MIZE
139 0207368 GAURAV SINGH
140 0307508 SANTOSH KUMAR THOTA
141 0511044 AMIT RATHOD
142 0827205 ANKUSH
143 0858435 HIMANSHU SINGH RANA
144 0830254 VIPUL DHANKHER
145 3500795 CHETANYA KAUSHAL
146 0840817 BHUBAN CHHETRI
147 5401317 ARJUN SINGH
148 0602534 AMAN SHARMA
149 0510639 MOHIT GANJOO
150 0841589 DEEPAK JINDAL
COMBINED DEFENCE SERVICES (II) EXAMINATION,2017
 S.NO. ROLL NO NAME     OFFICER TRAINING ACADEMY (MEN)
151 0804201 CHAMAN DEEP
152 0829911 ABHISHEK KUMAR
153 0848685 VIPUL DAGAR
154 3900470 ROHAN BHARDWAJ
155 3513105 PARIKSHIT SALARIA
156 3403131 PARAS JASROTIA
157 0408464 SHUBHAM SINGH BAGHEL
158 0808879 SAURABH MALIK
159 0508528 PAWAR NEERAJ RAHUL
160 1302116 MARCHATTIWAR UDAY RAJU
161 0702578 BIMAL RANJAN BEHERA
162 1407793 ADITYA BISHT
163 1600002 GAIDIM GOLMEI
164 0500485 GAIKWAD AKSHAY VILAS
165 0836643 SHIKHAR CHOUDHARY
166 1107700 AKANSH SRIVASTAVA
167 0816696 RAHUL SHARMA
168 0864298 KUMAR GAURAV
 COMBINED DEFENCE SERVICES (II) EXAMINATION,2017
 S.NO. ROLL NO NAME     OFFICER TRAINING ACADEMY (WOMEN)
1 0824176 JISHA CHAHAR
2 1106896 POOJA SHARMA
3 0204422 NALINI SINGH
4 3504427 SHILPA VERMA
5 0847223 PAYAL YADAV
6 0832542 KUSHBOO JAIN
7 3508241 JYOTI RANI
8 0857707 SAKSHI TOMAR
9 1108403 SURBHI DOOMRA
10 0866540 NEHA KUMARI
11 1901867 NIDHI RAI
12 2609436 ANUSHREE MISHRA
13 0804365 OJASWITA SHREE
14 3509261 JASPREET KAUR BOPARAI
15 3510930 ROOHANI SHERGILL
16 3505316 BHARTI BANGAR
17 3504535 JASKIRAT KAUR
18 3403485 MAMTA
19 3506819 OSHEEN GULERIA
20 0845838 RASHMI YADAV
21 1300644 DEVYANI BALWADA
22 0816062 SRISHTI RANA
23 3501284 AMRIT GOSAL
24 0829901 CHANDNI TOMAR
25 3510444 SONALI SEHNAZ
26 0854657 ARJU THAKUR
27 0829195 ANURADHA
28 3507894 VATSLA SINGH
29 2402353 ALISHA FRANCIS
30 0505514 ADITI MAHESH KAJREKAR
31 5401206 GEETA PALARIYA
32 0800727 KIRTI MANN
33 0843752 PRAGATI MISHRA
34 3516197 RAMANDEEP
35 0802148 ANKITA JOSHI
36 0502300 CHANDA KUMARI
37 0817739 GOSWAMI RITUPARNA
38 3510367 JASPREET KAUR
39 1111075 KALI CHORDIA
40 1412173 LAQSHIKA PATIYAL
41 1406877 SURBHI JAKHMOLA
42 0858101 AISHWARYA SINGH
43 0820992 NISHU TYAGI
44 0811828 AMANDEEP KAUR DHILLON
45 0867257 CHETANA SHARMA
46 3514801 RAYMON MANN
47 0842228 KRITIKA
48 3900430 AAVRITI BHATT
49 0508117 SANGLE GAUTAMI PRAKASH
50 0866740 SANSKRITI DIXIT
 COMBINED DEFENCE SERVICES (II) EXAMINATION,2017
[contact-form][contact-field label="Name" type="name" required="true" /][contact-field label="Email" type="email" required="true" /][contact-field label="Website" type="url" /][contact-field label="Message" type="textarea" /][/contact-form]
 S.NO. ROLL NO NAME     OFFICER TRAINING ACADEMY (WOMEN)
51 0839464 SHIVIKA MANCHANDA
52 0859470 SHUBHANGI VERMA
53 0839546 PARVATI BHARDWAJ
54 0851275 SHALINI SINGH
55 1105191 KARUNA SHEKHAWAT
56 0404719 AANCHAL GANGWAL
57 0815252 NEELAKSHI
58 0860706 KHUSHBU BHATIA
59 0856754 URVASHI PHORE
Share this Post
(इस पोस्ट को अपने दोस्तों के साथ शेयर करना ना भूले)
Posts in Other Categories