Geneva Convention | Know How it will Save Our Wingman Commander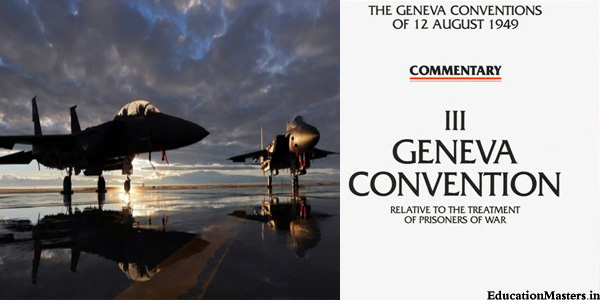 What exactly is the Geneva Convention?
On the LoC, the tensions have increased as the news over the detention of Indian air force's wingman commander Abhinandan Varthaman by the Pakistani Army have started making rounds. Thereby India has started demanding that the IAF pilot should be treated according to GENEVA CONVENTIONS of 1929.


Basically, Geneva Conventions state the rules regarding protection and safety of Prisoners of War (PoW)


It was first stated in 1929 and then was again amended in 1949 after World War 2


Rules for PoW in Geneva Convention
There are four Geneva Conventions in total and the third Geneva Convention states the rules and regulations regarding how a PoW should be treated, It is only applicable in International Armed Conflicts and not otherwise, The detention is only for the purpose that he no longer indulges in any violent or acts of war thus he should be treated completely humanely in every possible way until his eventual release or else the Geneva convention rules will be violated.
So how does this apply to IAF wing man's Commander Detention?
As Abhinandan Varthaman has been declared as a Prisoner of War (PoW) thus he has to be treated according to Geneva Convention treating him inhumanely manner with complete safety & protection and has to be released eventually within a week after a few negotiations if not done it will eventually lead to a war between India & Pakistan as Pakistan has already violated a lot of rules by beating the commander.
GK Questions Related to Geneva Conventions:
Q1.
What role did Geneva Convention played in World War 2 ?
A- The Geneva Convention, 1929. It came into force on 19 June 1931. It is this version which has covered the treatment & protection of the prisoners of war during World War 2.
Q2.
When was Geneva Convention Formed?
A- Geneva convention was formed in 1864 for the protection and recovery of the wounded in Time of War.
Q3.
Who does the Geneva Conventions apply to?
A- The Geneva Conventions seek to protect people who are not or are no longer taking part in the act of warfare, including the sick ones and wounded, ship wrecked sailors, prisoners of war, etc.
Share this Post
(इस पोस्ट को अपने दोस्तों के साथ शेयर करना ना भूले)
Posts in Other Categories