Lomonosov Moscow State University| Top Courses, Fee Structure & Nearby places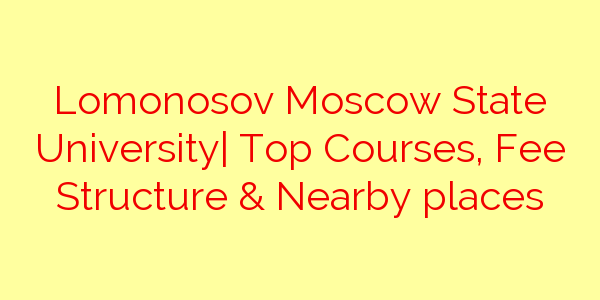 Established in 12th of January 1755, Lomonosov Moscow State University or Московский государственный университет имени М. В. Ломоносова is the largest and oldest of all universities in Russia. The 39 faculties along with the 15 research centers are excellent. The huge campus of the academic center also includes 380 departments, 4 museums, publishing gardens, botanical gardens, and Science Park. The Higher School of Television and faculty of Chemistry & Physics have been opened in recent times. The academy also includes several faculties like Faculties of History, Economics, Philology, Journalism, Sociology, and Psychology. A correspondence degree course is also offered by the Faculty of Journalism. Annually, with roughly 40, 000 foreigner students including postgraduates and part-timers students make admittance to the university. The staff of the academy includes more than 8, 500 lecturers research associates and associates professors.
Moscow State University is considered as the strongest in mathematics & natural science where its ranking is consigned between 38 & 75 in the world. MGU union with the leading global organizations such as UNESCO, The World Bank and is associated with many international associations, The University has signed more than 300 agreements with the universities many continents.
Faculties or Programs offered by Moscow State University


Faculty Of Bioengineering And Bioinformatics


Faculty Of Biology


Faculty Of Economics


Faculty Of Global Studies


Faculty Of Biotechnology


Faculty Of Chemistry


Faculty Of Computational Mathematics And Cybernetics


Faculty Of Educational Studies


Faculty Of Journalism


Business School


Faculty Of Foreign Languages


Faculty Of Fine And Performing Arts


Faculty Of Fundamental Medicine


Faculty Of Fundamental Physical-Chemical Engineering


Faculty Of Geology


Faculty Of Geography


Faculty Of Physics


Faculty Of History


Faculty Of Law


Faculty Of Materials Science


Faculty Of Mechanics And Mathematics


Faculty Of Philology


Faculty Of Philosophy


Faculty Of Political Science


Faculty Of Psychology


Faculty Of Public Administration (School Of Public Administration)


Faculty Of Sociology


Faculty Of World Politics


Graduate School Of Management And Innovation


Graduate School Of Public Administration


Soil Science Faculty


Higher School Of Modern Social Sciences


Higher School Of Policy In Culture And Administration In Humanities


Higher School Of State Audit


Moscow School Of Economics


Higher School Of Translation/Interpreting


Higher School Of Television Studies


Institute Of Asian And African Studies


Graduate School Of Innovative Business


Fee Structure at MGU:
The fee structure of MGU for per year or 2 semesters (both graduate and post-graduate) is around 5000 US $.
Supplementary cost for accommodation, Meals, Transportation and Medical Health:
Transportation Cost –
30 to 35 US $
Accommodation cost –
The cost depends on the type of lodging. It will cost around 300 to 600 US $
Medical Insurance in MGU –
150 US $ Per Semester
Meal cost –
The breakfast, lunch & dinner at Moscow State University cost around 10- 20 USD $ per day.
Places to visit near Lomonosov Moscow State University


The Earth Science Museum


Sparrow Hills (Vorobyovy Gory)


Great Moscow State Circus on Vernadskogo


State Darwin Museum


Victory Museum


Best hotels to stay near Lomonosov Moscow State University


Hotel Universitetskaya


Warsaw Hotel


Korston Club Hotel Moscow


Spektr Hotel


Yunost Hotel


Share this Post
(इस पोस्ट को अपने दोस्तों के साथ शेयर करना ना भूले)
Posts in Other Categories