Top 5 Uttarakhand Government Schemes In 2018 -You Need To Know This!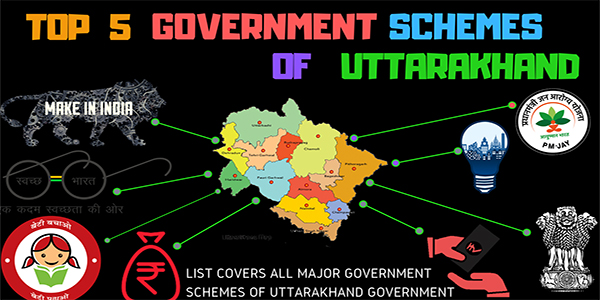 Every year Indian government introduce new schemes which are beneficial to every citizen of India. In 2018 Government of India launched some major schemes which directly  or indirectly Affect our daily life so here  I jot down some of the major government schemes of 2018 ..take a look
Top 5 Uttarakhand Government Schemes


Ayushman Bharat Scheme


UDAN Yojana


National Nutrition Mission


Solar Charkha Mission


GOBARDHAN Yojana


1-Ayushman Bharat Scheme (National Health Protection Scheme)- 
Ayushman Bharat Scheme or National Health Protection Scheme  The scheme was launched on 25th Sep 2018  The scheme launched to cover 10 crores poor and vulnerable, families. Under this, Rs 5 lakh will be provided to each family per year in secondary and tertiary care institutions. This scheme covers 50 cr beneficiaries in all over India.
2-UDAN Yojana-
 The scheme was launched on June 15, 2016.  Ude Desh ka Aaam Naagrik Yojana. aimed at making air travel affordable and popular to boost inclusive national economic development, job growth and air transport infrastructure development of all regions and states of India. 56 airports and 31 helipads are being used less than the capacity will be added in the initiative to connect common man with the UDAN Yojana
3- National Nutrition Mission-
It was launched as an extension to the Beti Bachao Beti Padhao programme. The scheme was first launched at Jhunjhunu in Rajasthan on the occasion of the International Women's Day on March 8, 2018, by Prime minister Narendra Modi. The main plot of this scheme was to attain proper balanced  nutritional status among children of age group  0-6 years, adolescent girls, pregnant women, and lactating mothers in a timely manner; reduce stunting, under-nutrition, and anaemia among young children, women, and adolescent girls; and lowering low birth weight by at least 2% per annum.
4-Solar Charkha Mission- 
 Honorable  President Ram Nath Kovind launched this Solar Charkha Mission on June 27, 2018, in which the government will provide a subsidy of Rs 550 cr to the thousands of artisans and generating employment in the rural areas. The Ministry of Micro Small and Medium Enterprise (MSME) will cover the 50 identified sector of the country including in the Northeast and in each sector 400 to 2,000 artisans will be employed. Along with this mission, the government also launched a Sampark portal, a digital platform on which 5 lakh job aspirants can connect with the Ministry of Micro Small and Medium Enterprise (MSME).
5- GOBARDHAN Yojana-
 The Galvanising Organic Bio-Agro Resources Dhan (GOBAR-DHAN) scheme was launched by Haryana's Chief Minister Manohar Lal Khattar and Uma Bharti (Union Minister for Sanitation and Drinking Water) on April 30 this year. The GOBAR-Dhan scheme is an effort by the government to improve the living conditions in the Indian villages and make them open-defecation free. Swachh Bharat Abhiyan initiative, this scheme will focus on useful conversion of solid waste and cattle dung into manure and biogas.
Share this Post
(इस पोस्ट को अपने दोस्तों के साथ शेयर करना ना भूले)
Posts in Other Categories