UKSSSC hiring 400 बंदी रक्षक की भर्ती उत्तराखंड में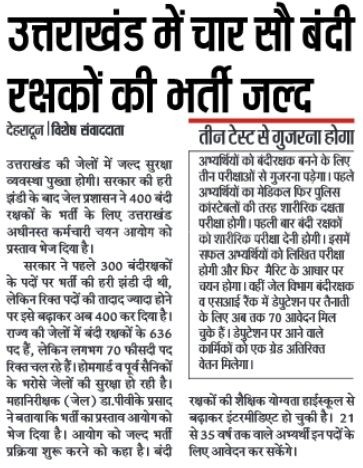 400 बंदी रक्षक की भर्ती उत्तराखंड में
Uttarakhand Subordinate Service Selection Commission (USSSC) has released notice for the recruitment of Bandi Rakshak (Prison Guards) in Utttarakhand Jails. USSSC Dehradun has invites online applications to fill up the 400 vacancies of Bandi Rakshak (Jail Guards) in various Jail of Uttarakhand.
Published Date:
17 Oct 2015
Job Post:
Bandi Rakshak (Jail Guards)
Education Qualification:
12th Class
Recruitment By:
USSSC
Last Date:
20 Nov 2015
Pay Scale :
Rs 5200 – 20,200/- GP – Rs 1900/-Educational Qualification
Candidates should have pass Class 12th and knowledge of written Hindi in Devnagiri.
Desirable Qualification –
1) Minimum 2 years service in Territorial Army
2) NCC B Certificate
Note : Registration in Employment Office in Uttarakhand is neccessary (before application date).Age Limit : 21 – 35 years (as on 01 July 2015)
Application Fee
Application fee should be submitted in any SBI Bank through e-Challan after online submission of application.
For GEN/ OBC : Rs 300/-For SC/ ST : Rs 150/-
How To Apply
Candidates can apply online on official website
www.sssc.uk.gov.in
or below link through 'Candidate Registration' and submit the application fee through e-Challan.
Selection Procedure


Candidates have to go through Physical Measurement Test.


Height : 165 cm or 5'5" (160 cm or 5'3" for Hill Candidates, 157.5 cm or 5'2" for ST Candidates Weight : 55 KgsChest : 78.8 cm (83.8 cm with extension) & for Hill Candidates/SC/ ST 76.3 cm (81.3 cm with extension) Eyes : 6/6 on both eyes


After qualify Physical Measurement Test, Physical Efficiency Exam (100 Marks) will be conducted & 50 marks is minimum marks to qualify. Physical Efficiency Exam includes –


Cricket Ball Throw Long JumpPush UpSit UpRunning


Written Exam : MCQ of 100 marks ( 50 marks – General Study, 50 marks – Mathematics & Reasoning)


Important Dates
Starting Date of Online Registration : 20 October 2015Last Date of Online Registration : 20 November 2015
Important Links
Apply Online : Coming Soon (on 20th Oct)
Share this Post
(इस पोस्ट को अपने दोस्तों के साथ शेयर करना ना भूले)
Posts in Other Categories